On May 22, the Ministry of Finance of the People's Republic of China promulgated the "Notice of the Customs Tariff Commission of the State Council on Reducing Import Tariffs for Automobiles and Parts". The announcement shows that since July 1, the vehicle tax rate is 25% and 20%. Will be reduced to 15%, the following is the full text of the announcement:
Taxation Committee Announcement [2018] No. 3
In order to further expand reform and opening up, promote structural reforms on the supply side, promote the transformation and upgrading of the automobile industry, and meet the consumer demand of the people, from July 1, 2018, reduce the import tariffs on automobile and parts. The tax rate of 135 tax numbers with a vehicle tax rate of 25% and 4 tax numbers with a tax rate of 20% is reduced to 15%, and the auto parts tax rates are 8%, 10%, 15%, 20%, and 25, respectively. The tax rate for a total of 79 tax codes fell to 6%. The specific tax items and tax rate adjustments are shown in the annex.
Special announcement.
Attachment: MFN tariff adjustment table for imported cars and parts
State Council Tariff Commission
May 22, 2018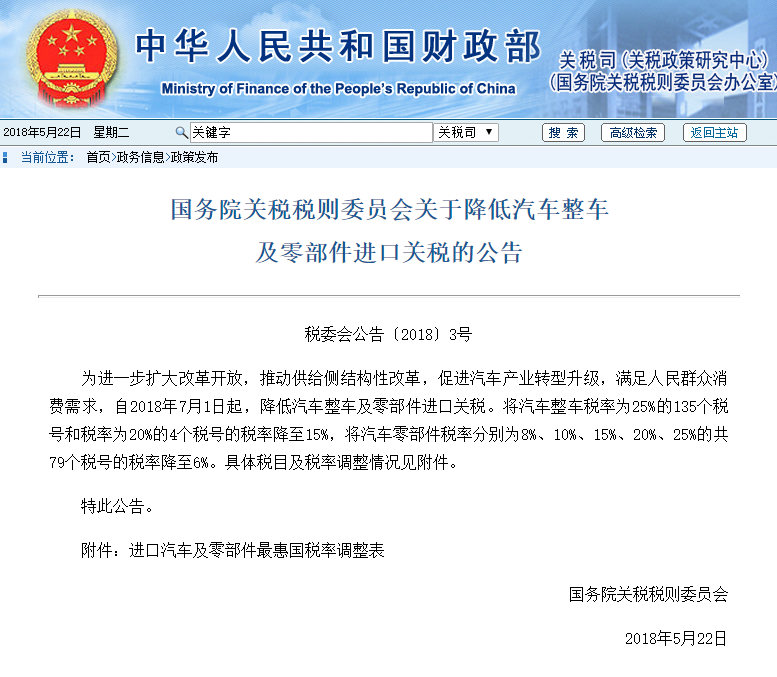 (文章来源:财政部官网)